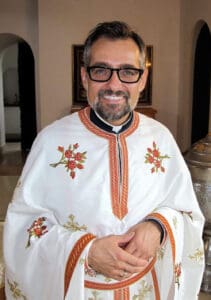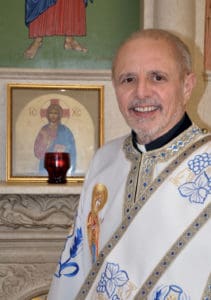 Fr. George P. Bithos

Raised in Dallas, Dr. Bithos attended The University of Texas and graduated from Southern Me- thodist University with a Bachelor of Science in Biology and Anthropology. He received his DDS at Baylor College of Dentistry and practiced reconstructive dentistry for 28 years, Dr. Bithos retired to change the direction of his life. He read for a PhD in Orthodox Theology and History at the University of Durham in Great Britain, studying under the renown Orthodox scholar Rev. Dr. Andrew Louth. After earning his degrees, he returned to the States to work and teach at Hellenic College/Holy Cross School of Theology. He was ordained to the Holy Diaconate in 2003. In 2004, he returned to Texas to become the Executive Director of the Texas Conference of Churches. In 2009, he published a book based on his research in Saint Methodios of Con- stantinople – A Study of His Life and Works. Dr. Bithos was appointed the Independent Om- budsman for SSLCs in February 2010 by Governor Rick Perry and is an advocate for peoples living with developmental disabilities in Texas. Fr. George serves at Transfiguration GOC in Austin and lectures and teaches both nationally and internationally. Fr. George and Diakonissa Ria have been married for over fifty, have two grown and married children and five fabulous grandchildren. They enjoy traveling, cooking entertaining and the arts.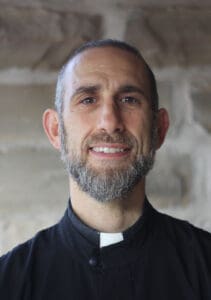 Dn. Salvatore M. Fazio
Deacon Sal was ordained to the Holy Diaconate on December 20, 2009. He and his wife Diakonissa Angela have two sons Andreas and Elias. In his secular career, Dn. Sal is a Principal in an Electrical Engineering Consulting firm. Dn. Sal, a Master in Martial Arts, and Diakonissa, who is a Martial Arts instructor, personal trainer, and wellness educator, work together in their business Christian Martial Fitness. Their mission is to encourage others to TRAIN HARD, STAY PRAYERFUL AND LIVE HEALTHY. Dn. Sal has also been the Diaconate Program Director of Outreach for Hellenic College Holy Cross Greek Orthodox School of Theology (HCHC) in Brookline, MA since February of 2017. He is a guest speaker, organizer, and supporter of diaconate retreats and events to strengthen diaconate fellowship in communities throughout the Greek Orthodox Archdiocese of America.