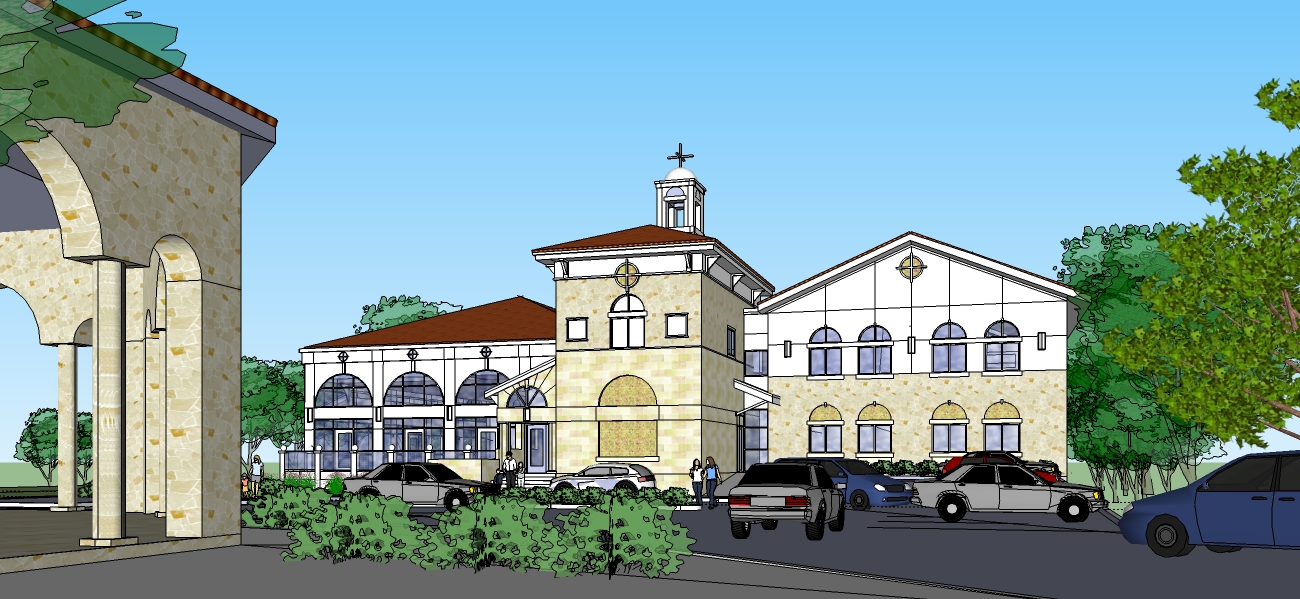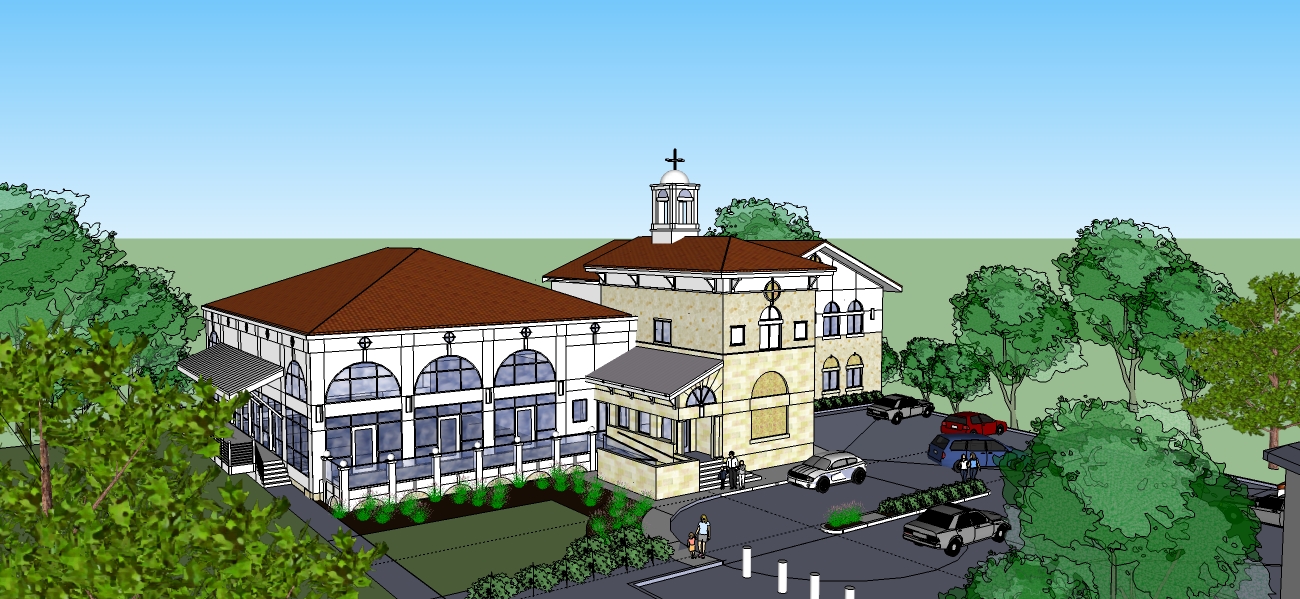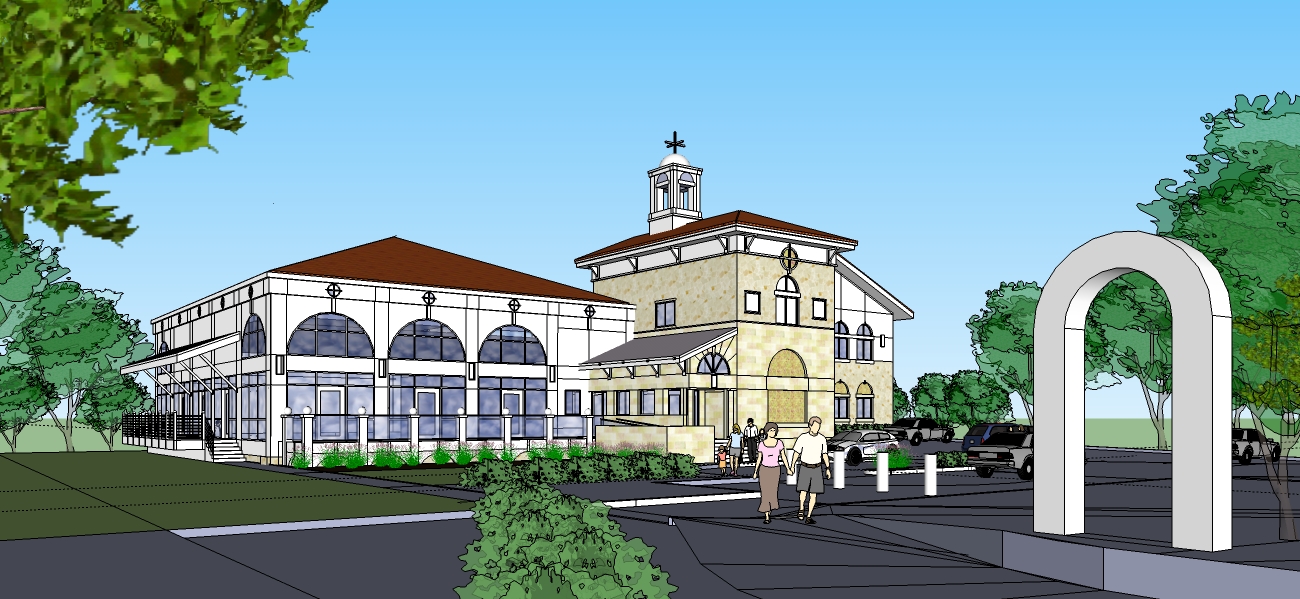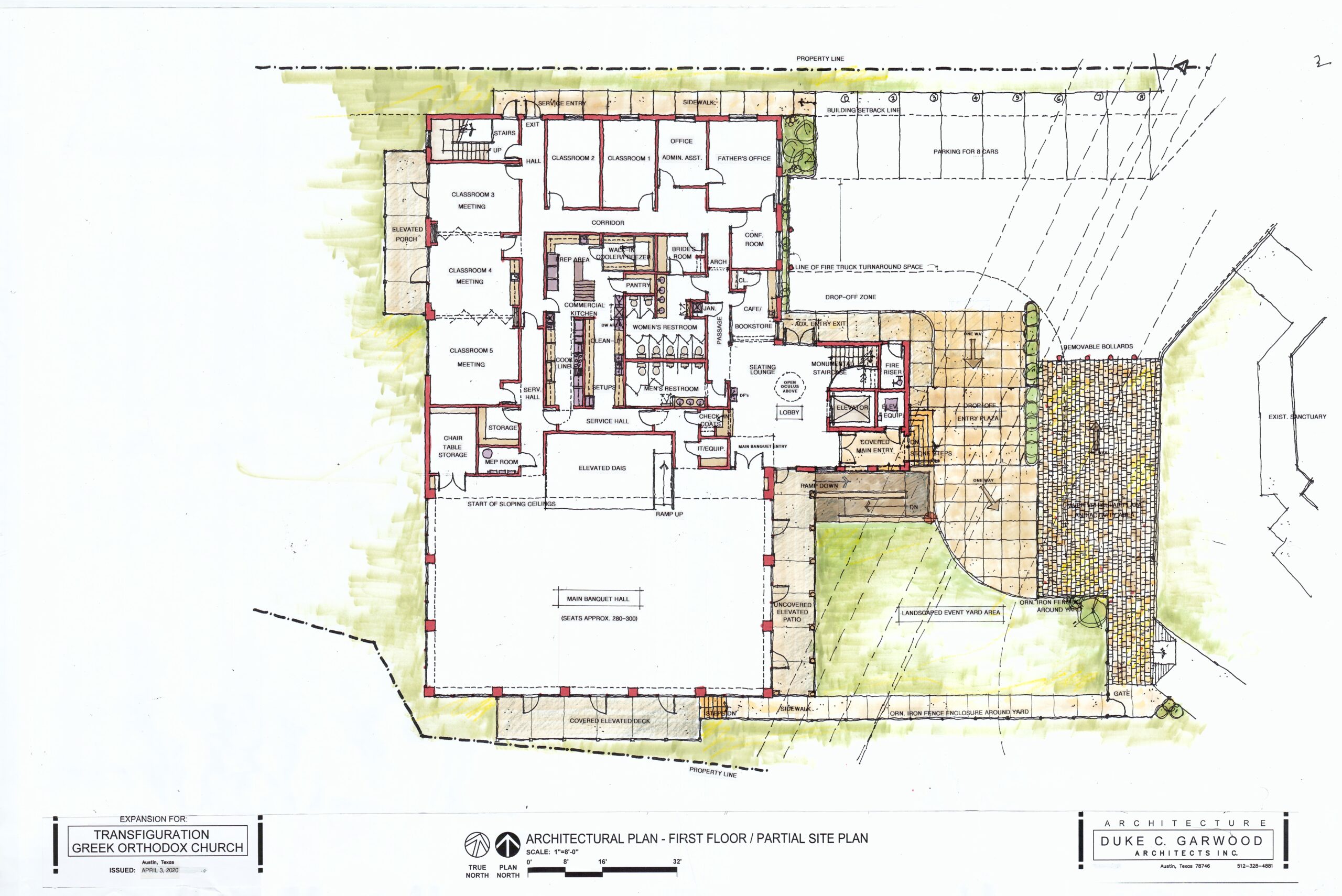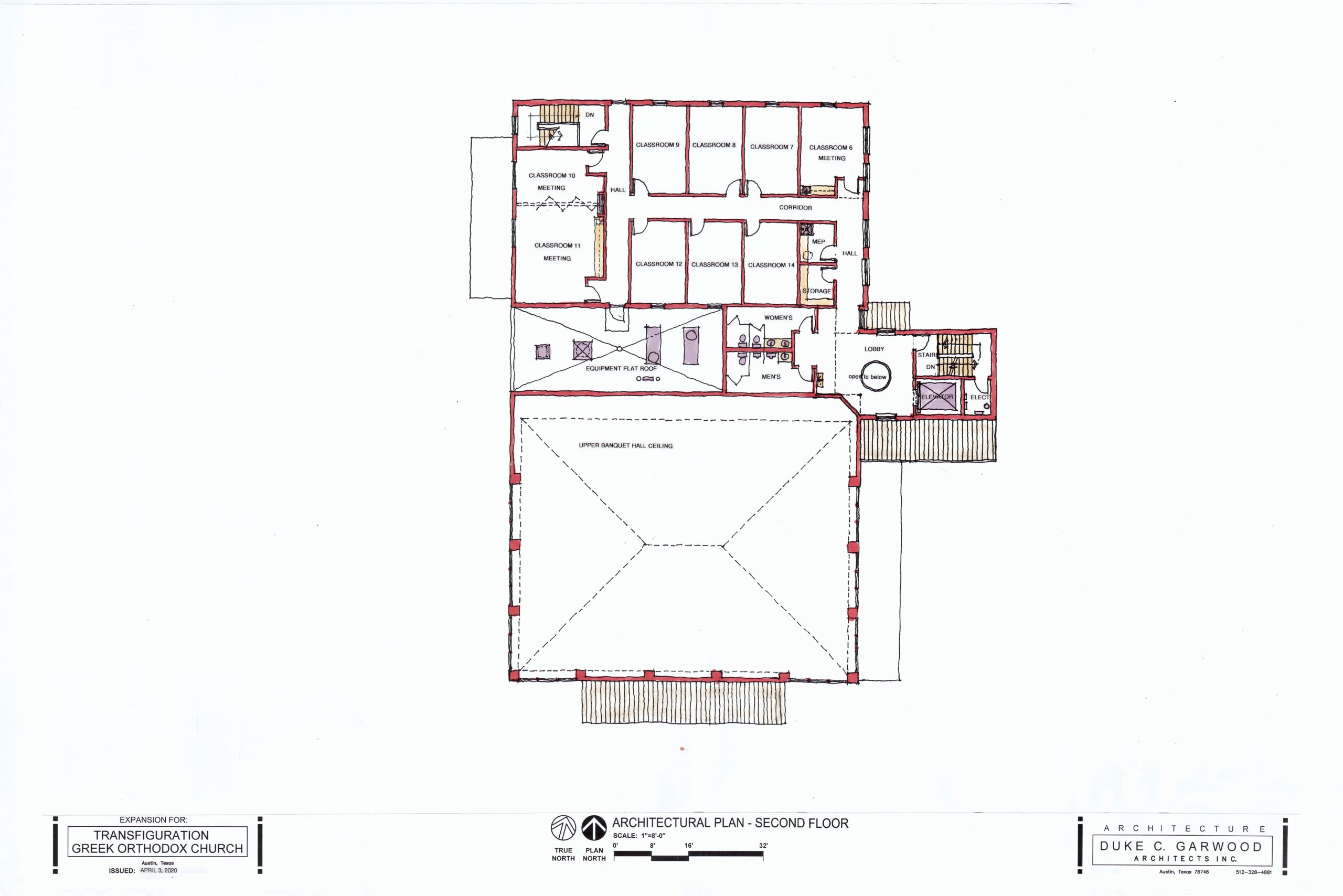 From its inception in 1985, Holy Transfiguration Greek Orthodox Church of Austin, Texas has seen a steady increase in those seeking to draw closer to Christ through the Orthodox Christian Way. As we move into the future, we humbly ask YOU, our dear community and fellow parishioners, for continued support in the growth of our beloved church.
Building Faith, Family & Future
Our Consecration in November of 2016 was a profound landmark in the life of Transfiguration Greek Orthodox Church, and having reached this milestone, our attention is turning to the future. With so many people moving to Austin, and so many locals converting to our ancient faith, our parish is growing and we must reach to meet the people God sends to us. In order to keep pace with the growth of our parish and our ministry programs, we are planning to expand by building a new community center at the top of our hill. The overall vision includes new classrooms, administrative offices, banquet/fellowship hall facilities with a stage and commercial kitchen, space for ministry meeting rooms and offices, a proper bookstore and increased parking capacity. The new community center building will feature a prominent "Transfiguration" sign visible to Bee Caves Road, and will become a new Austin landmark, a light on the hill that cannot be hidden.
Issues Addressed by Expansion

To create more and larger Sunday School classrooms. Our New Mount Tabor will have 14 classrooms and meeting rooms for over 250 students. Our 2019 year-end Sunday School program enrollment is 160 an increase of 40% from 2012. Our current Sunday School facilities are inadequate.

 

A better Banquet hall with elevated stage. Our new banquet hall in the New Mount Tabor is 4,200 sq. ft. and can accommodate 280-320 people. Using this hall, we can host events such as the Gala or a Wedding reception. Our current hall is 2,600 sq. ft. with a capacity of 175 people and is mismatched with the capacity of our Sanctuary at 300.

 

Better kitchen and administrative facilities. The new 620 sq. ft. Parish kitchen will meet required commercial kitchen standards and requirements.

 

Our current kitchen is 245 sq. ft. and is inadequate to meet Parish needs.
Adequate offices and workrooms for our ministries. Our Church and New Mount Tabor are wonderful ways to continue to bring our members together in our youth ministries, Greek School, Philoptochos, Religious education, Retreats, Community nights.
To minimize disruption of current classroom and ministry activities, we will use current Mt. Tabor Hall and the Base parking spots during construction of New Mount Tabor
New sources of income for our Church. The new community center Hall and Kitchen creates a wonderful atmosphere for weddings, large and small meetings, gatherings, celebrations, parochial schools, and organizations.

 

Parking relief: We have 87 marked spaces and will continue overflow parking at the military base. We will lose 20 parking spaces lowering the New Mount Tabor building to the ground and then gain 55 surface parking spaces by replacing the current Mt. Tabor Hall with a Parish parking lot. A future project is a Parking Structure and Recreation Center on the Mount Tabor Hall property.
Project Financing
The financing for the will come from two sources:
Down Payment $4.1M: Fundraising $3.4M plus $0.7M funds set aside from operating budget mortgage accrual, gala, golf, luncheons and Greek Festival.
Mortgage Loan $2.0M: 20-year loan, expected interest rate of 5.5%.

 

Mortgage financing can be reduced if the Parish strongly supports our special events: including TGOC Greek Festival, Parish luncheons, Gala sponsorship and silent auction and the Golf tournament.

 
During our 30 year history the Parish has a demonstrated fiscal maturity and its readiness to build the new Mount Tabor Hall:
1998: Mt Tabor Hall $146K raised, $139K mortgage paid off.
2002-2006: New sanctuary and Icons: $2.1M ($400K loan) 150 families raised $1.3M.
2011: $78K raised instantaneously for pews
2011-2012: Phase 2 Icons, lighting, sound, rugs: $336K, 170 families raised $370K.
2013: Sanctuary loan is paid off.
2016: Consecration and Walkway 140 families raised $515K
2018-2020 Q2: New Mount Tabor Project through August 2020 we have $1.53M set aside from Fundraising and Pledge received, mortgage accrual and net income from Luncheons, Festival, Golf and Gala.
How Can I Help?

Please take a moment to reflect that because the Church is God's home, even referred to as His "bride", it naturally becomes an extension of our own homes . Many of us have family members whose spiritual beginning was in this church after receiving the sacrament of baptism. Many of us will witness the marriages and baptisms of our children in this Church and celebrations in the new Mt. Tabor Hall. Our growing ministries for Religious Education, Philoptochos, Folk Dance, Greek School, Encore, Young Adult organizations, Orthodox Christian Fellowship, GOYA and JOY/HOPE are ready to use the new Mt. Tabor Hall. We will all celebrate Gala events together, our feast days together, and receive Holy Communion together. And when the time arrives when we are finally called by the Lord, we will say our final goodbyes in this Church and Hall. Yes, there is no doubt that for a believing Orthodox Christian, our church is an extension of OUR OWN HOME!
Christ Himself tells us, "From everyone who has been given much, much will be demanded; and from the one who has been entrusted with much, much more will be asked." (Luke 12:48). It is the same here. The idea is to participate at a level relative to your financial means.